It's Fall, y'all and that means that it's pumpkin season. While pumpkin spice lattes can be found in your favourite local coffee shops, there are several options to consider this time of the year if you're looking to satisfy your pumpkin craving.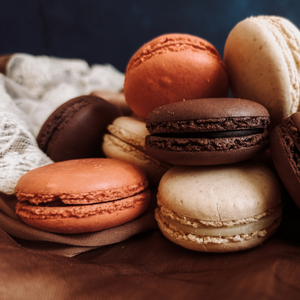 Macaron Pumpkin Pie Cheesecake
Ollia Macarons and Tea has an impressive macaron cheesecake sure to compliment any table. The cake is made with pumpkin white chocolate ganache and pumpkin cream cheese buttercream, topped with Chantilly whipped cream, dark chocolate spirals and walnut on a macaron shell. Or go straight for their fall macaron collection featuring pumpkin spice, chocolate praline and caramel apple.
Pumpkin Pie Ice Cream Cake
Who can resist ice cream cake? The Made By Marcus pumpkin pie ice cream cake is available all month long both in store and online. It has a rice krispie base, pumpkin spiced ice cream, caramel glaze and is topped with meringues. The October feature ice cream is Pumpkin Candy Corn.
Spiced Pumpkin Pie Gelato
Spiced Pumpkin Pie Gelato is back at Righteous Gelato. Made with a flaky, gluten-free crust, rich pumpkin and classic spices it's a fan favourite every year.
Pumpkin Pie & Shortbread Crumble
The baked goods at La Boulangerie are to die for. Now available to satisfy all your fall cravings is the pumpkin pie and shortbread crumble.
Pumpkin Spice Latte Cupcakes
Until October 8th, Crave Cupcakes is offering pumpkin spice latte cupcakes as part of their Thanksgiving menu. Sink your teeth into pumpkin cake cupcakes with an espresso buttercream. Check out the mini pumpkin pies until the end of October.
Cranberry Pumpkin Spice Doughnut
ConMiTaco has a doughnut that is a must-try for pumpkin fans. The Tres leches soaked doughnut features cranberry jam, pumpkin seed white chocolate crumble and a pumpkin spice chantilly. So decadent!
Pumpkin Spice Honey
Wild Prairie Honey has a limited edition of their small batch whipped pumpkin spiced honey. It's made with a blend of cinnamon, allspice, nutmeg, ginger, cloves and mace. We're going to drizzle it on everything this season!
Pumpkin Cheesecake
Sweet Relief Pastries has a creamy pumpkin cheesecake baked on a gingersnap crust and topped with dulce de leche caramel, skor bits and tiny pumpkin sugar cookie leaves. Need we say more?