CHOCOLATE – A CRASH COURSE
Chocolate 101
What is it?
Chocolate is made from ground, roasted cacao beans harvested from the cacao tree.
What are some different kinds of chocolate?
White chocolate: contains cocoa butter, milk solids and sugar but does not contain cocoa solids
Dark chocolate (bittersweet or semisweet) contains 50-90 per cent cocoa solids, cocoa butter, milk and sugar.
Milk chocolate contains fewer cocoa solids than dark chocolate and melts easily.
Unsweetened chocolate is made from 100 per cent pure cocoa solids and cocoa butter with no added sugar
Where did chocolate come from?
The history of chocolate dates back more than 3,000 years. The Maya, Toltec and Aztec people were the first to prepare a beverage from the fruit of the cacao bean.
What's the difference between cacao and cocoa?
Cacao is the raw material; the seed from which cocoa and chocolate are made. Cocoa is created after the cacao beans are finely ground into powder.
CHOC-CUTERIE BOARD
Chocolatiers are expanding beyond traditional sweet ingredients, venturing into a whole new world of herbs and spice. In fact, the team at Cococo Chocolatiers suggests we start incorporating their award-winning, herb-infused chocolate into our charcuterie boards.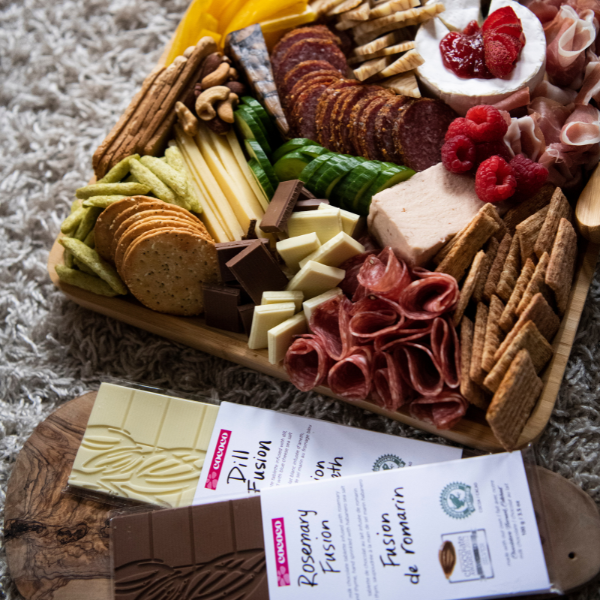 Intended to be enjoyed with meat and cheese, their Rosemary Fusion bar, a creamy combination of rosemary, thyme and habanero sea salt, won a World Silver medal at the International Chocolate Awards in 2014. Since then, Cococo has introduced its Oregano Fusion and Dill Fusion bars.
Try a piece of Rosemary Fusion chocolate with a slice of brie wrapped in prosciutto. Or top a piece of Oregano Fusion chocolate with a slice of old cheddar wrapped in salami. A piece of Dill Fusion chocolate pairs beautifully with a slice of honey ham, a dill pickle, chips or gherkin. Endless possibilities.
HAPPY ACCIDENT
The chocolate chip cookie was invented by accident by Ruth Wakefield in 1930 at the Toll House Inn in Massachusetts. Attempting to make chocolate cookies, Ruth broke a Nestlé candy bar into pieces and added the chocolate morsels to her batter, assuming they would melt into the cookie. Instead, out popped a cookie with tiny molten chocolate bits wholly intact.
The cookie turned out to be a big hit and Ruth found herself making her "Chocolate Crunch Cookie," as she called it, again and again for hotel guests. In fact, she ordered so many Nestlé candy bars that a company rep eventually drove out to see what all the fuss was about. A deal was struck and by 1980, Nestlé was producing 350 million chocolate chips a day with Ruth's "Tollhouse Cookie" recipe on the back of every package.
ASK A CHOCOLATIER
Meet Anne Sellmer, owner and chead chocolatier of Calgary's award-winning Cochu Chocolates.
How did you become a chocolatier?
I was a stay-at-home mom to three boys for 13 years. We were always encouraging our kids to do what they love and one day my youngest asked me, "Mom, are you doing what you love?" This made me think about launching a second career. After taking a chocolate course at SAIT, I fell in love with making chocolate and the more I learned, the more I fell in love.
When did you open your brick-and-mortar shop?
We opened in June 2022. I had been running my business since 2017 out of a commercial kitchen in my basement, but demand was high and I couldn't expand due to limited space.
What is the most challenging part of your job?
For a chocolatier in general, the challenge is not to get frustrated when something doesn't work. The job requires resilience and perseverance. When we make mistakes, we all gather around to investigate why. Mistakes are good around here because they make us better.
What inspires your flavours?
I think about eating all day, every day. I am constantly thinking about flavour combinations.
Is all chocolate created equal?
No. Pay attention to the ingredients and try to purchase good quality chocolate. Inexpensive chocolate often doesn't deliver a lasting flavour. Sustainability is also a big concern. All our chocolate comes from farmers with programs that pay attention to sustainability and sourcing.
How should we store chocolate?
Avoid the fridge because chocolate absorbs flavours. It is best enjoyed at room temperature.
When melting chocolate, should we use bars or chips?
I actually prefer couverture [chocolate made with a higher percentage of cocoa butter] because it tastes and looks better. Use your microwave at 30-second intervals and stir in between.
What are your top sellers?
Our candy bark and sponge toffee are bestsellers. For bon bons, it's the Gin and Tonic.
Do you have a current favourite?
I love the Dark Chocolate 'Racha bark (made with Sriracha).
"There is nothing better than a friend unless it is a friend with chocolate." Linda Grayson
We're crazy for chocolate here in Calgary. Check out these local chocolatiers: