Savour Calgary has rounded up its favourite Christmas cocktails in Calgary (and a couple outside, too) to help you make the most of your holiday libations. Whether you're celebrating, treating yourself or numbing the pain of having your in-laws in town for Christmas, these delicious, delightful drinks are sure make your day merry and bright.
By Wanda Baker and Camie Leard
The Block Kitchen & Lounge – 2411 4 St NW, Calgary, AB T2M 2Z8
Located in Mt. Pleasant, The Block Kitchen & Lounge is offering a playful line up of Christmas cocktails this holiday season.
The Mr. Grinch cocktail is sure to make your heart grow three sizes with its garlic vodka, clamato juice and pickled onion, pepperoni, tomato and olive garnish.
Oh Christmas Tree is a fresh cocktail featuring gin, juniper syrup, crème de menthe, peppercorn and dried juniper berries.
The I'll Be Home For cocktail inspired by a classic features' cranberries, vodka, grand mariner, ginger ale and a turkey jerky garnish.
Good Queen Bess looks to history as the first documented instance of figure-shaped gingerbread biscuits was at the court of Elizabeth I of England (also known as Good Queen Bess). Sip this cocktail made with bourbon, domaine de canton, vanilla galliano, ginger beer, and garnished with a gingerbread man. Try one, or try them all, we know where we're going this weekend.
Bridgeland Distillery – 77 Edmonton Tr. N.E.
Bridgeland Distillery has created two festive cocktails inspired by local Calgary bridges. The BBB (Boothman Buttered Bourbon) is named after the Harry Boothman bridge. This pedestrian bridge crosses the Bow River connecting Parkdale and Edworthy Park. The BBB is made using Bridgeland Distillery Oaked Three-Grain Spirit (Bourbon Mash), Grand Marnier, Bridgeland Bitters, vanilla ice cream and buttered brown sugar with spices. The George King is also a pedestrian bridge crossing the Bow River connecting the East Village and Bridgeland. This spiced tea cocktail has sage-infused Bridgeland Distillery Brandy Blanc, liquore strega, chai tea and spiced honey.
Burwood Distillery – 4127 6 St NE #15, Calgary, AB T2E 6V5
Using their newly released Candy Cane Medica Honey Liquer and their Burwood chocolate vodka (a collaboration with local chocolate maker Choklat), Burwood Distillery is featuring the Candy Cane Crush cocktail this month. Other ingredients in this cocktail include simple syrup, lemon juice and soda water making it the perfect sip.
Bacardi Eggnog Foodraiser Cocktail
Cannibale – 813 1 Ave NE, Calgary, AB T2E 0C2, Blue Star Diner – 809 1 Ave NE, Calgary, AB T2E 0C2, Dairy Lane Café –  319 19 St NW, Calgary, AB T2N 2J2
Three local businesses have partnered with Bacardi to create a delicious homemade eggnog and vegan eggnog. Each nog sells for $10 with $5 going to the Calgary Food Bank and is available at all three locations. If you are looking for a little activity after all your cocktailing, this group is hosting a Christmas Spin & Yin class Saturday December 14th at Movement U in Bridgeland serving vegan eggnog after the class. Entry is $10 with 100% of the proceeds going to the Calgary Food Bank. Spin, yin and eggnog. Sounds good to us.
Confluence Distillery – 507 36 Ave SE, Calgary, AB T2G 1W5
As Confluence celebrates one year in business, the team has put together a delightful Christmas cocktail menu that includes the sweet and tangy Mandarin Orange, Candy Cane Cosmo and Northern Lights. Our fave was Christmas at the Kremlin, which mixologist John Fairholm described as chocolate milk for grownups. Featuring East Village Espresso Vodka, Barista coffee liqueur, eggnog, chocolate bitters and Nesquik chocolate syrup, it's like a Coffee Crisp bar in a glass. Bonus: A dollar from every Christmas at the Kremlin sold goes to Mealshare.
Eau Claire Distillery – 113 Sunset Blvd SW, Turner Valley, AB T0L 2A0
Eau Claire Distillery has put its Christmas spirit lineup to work this season with a suite of cocktails that bring out the best in the Christmas Gin, Gin Rummy and apple brandy. The boozy two-ounce Brandy Appleseed is the perfect thermos bevvy for rink-side warmth and the Reindeer Lift Off blends Eau Claire's Christmas Gin and a simple syrup made with Spirit Hills mulled wine.  Our favourite is the Gingerbread Rummy, which comes in an elegant champagne glass with a stick of cinnamon. It's spicy, creamy and sophisticated with a nostalgic infusion of gingerbread cookies in every sip.
The Hawthorne Bar – 133 9 Ave SW, Calgary, AB T2P 2M3
Hawthorn Bar Manager Nick Park has come up with a great Christmas cocktail menu, each inspired by our favourite holiday movies. We dipped into a White Christmas, served hot. Featuring white rum, white chocolate liqueur, Buffalo Trace cream, almond milk and whipped cream, it was a cozy, creamy, sweet treat to enjoy in the posh environs of the Palliser, beautifully decorated for Christmas. Also look for the Love Actually, Yippee Ki Yay (Die Hard) and Assistant GM Amanda Swearengen's favourite, the Elf-inspired Cotton-headed Ninny-Muggins that comes in a flask!
Midtown Kitchen & Bar – 302 10 St NW, Calgary, AB T2N 1V8
Midtown Kitchen & Bar has created a festive cocktail to help you make your way through the holiday season with a little extra help. Santa's Little Helper combines lemon juice, Eau Claire Distillery Christmas gin, egg white and a special simple syrup. This cocktail is perfectly balanced and delicious with lunch.
Pr%f (Proof!) – 1302 1 St SW, Calgary, AB T2R 0V7
Miracle on 1st Street returns to Proof for a second year as the chosen venue for the Miracle pop-up franchise. The Snowball Old Fashioned is the crowd favourite this year with pecan-infused bourbon delighting downtown drinkers. According to bar staff, the eggnog is also a popular choice. If you're looking to treat your Instagram followers as well as yourself, get the Santa Rex, which comes in an awesome T-rex-in-a-Santa-hat tiki mug. Our question: could a T-Rex toast his friends with those tiny arms?
Ricardo's Hideaway – 1530 5 St SW, Calgary, AB T2R 1K3
Ricardo's is the chosen host for this year's Sippin' Santa – a New-York-based pop-up cocktail franchise that marries tiki culture and Christmas…that's our kind of union! We tried the Shaka Kalikimaka (mostly because we wanted to say it out loud.) Wouldn't you know it, Bing Crosby came on the hi-fi as we were sipping singing this fresh, frozen and fruity cocktail's namesake song. Cocktail karma at its finest.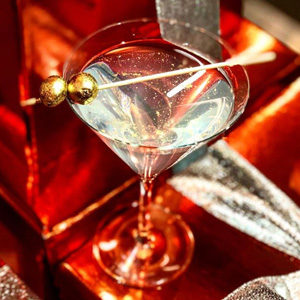 Yakima Social Kitchen & Bar – 2008 Airport Rd NE, Calgary, AB T2E 3B9
Located in the Marriott at the Calgary International Airport, Yakima Social Kitchen & Bar offers a beverage program influenced by Aboriginal, Asian and North American influences while supporting locally sourced spirits. Their Christmas cocktail, All That Glitters, is made with Eau Claire Christmas Gin, white cranberries and a hint of citrus. Free valet parking allows you to enjoy your cocktails without worry.