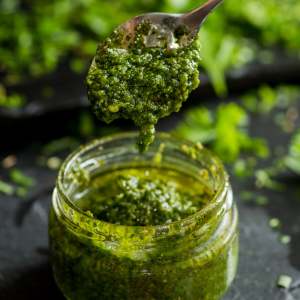 Pesto can be made with almost any herb and cilantro is no exception. This version is made with cilantro leaves and stems (tons of flavour in stems), pumpkin seeds, Parmesan or Romano cheese, garlic, rice wine vinegar, lime and olive oil.
Blitz it all together in a food processor, hand held blender or give it an authentic touch by using a mortar and pestle. Try making the pesto with a different nut, maybe almonds, pecans or walnuts, or no nuts at all.
Cilantro Pesto
Vibrant and fresh, cilantro pesto freezes well and is wonderful on anything from grilled salmon, shrimp or chicken to warmed with a little cream cheese and mixed with pasta.
Ingredients
1

cup

dry cilantro leaves and stems

1/4

cup

grated Parmesan or Romano cheese

1/4

cup

pumpkin seeds

2

cloves

garlic, rough chopped

1

tsp

lime zest

2

tbsp

fresh lime juice

1

tbsp

rice wine vinegar

1/2

cup

olive oil
Instructions
Whiz together cilantro, cheese, pumpkin seeds and garlic in a food processor or blender.

Add lime zest and juice, rice wine vinegar and olive oil. Process until you get the desired consistency (I like a little texture in mine).

Store in a sealed container in the fridge for up to 3 days. Pesto can be frozen.