Stuffing the stocking of a cocktail enthusiast? Trying to impress the amateur mixologist in your life? We've got you covered. Here are five unique gift ideas featuring local products and vendors.
Cocktail Books
As Benjamin Franklin once said, "An investment in knowledge pays the best interest." And in this case, the currency is whiskey sours. Now more than ever, amateur mixologists are looking for ways to up their game and increase their skill set. And there's no better (or cheaper) way to improve your bartending skills than with a good book.
From A Field Guide to Canadian Cocktails that features quintessentially Canadian cocktails such as The Loose Jaw (a ginger-ale inspired Manhattan) to Amaro, a deep dive into the world of bittersweet herbal liqueurs, there's a book out there for even the most discerning mixologist on your list. You can find many of these books at the Silk Road Spice Merchant in Inglewood as well other bookstores around town.
The Silk Road Spice Merchant | 1403A 9th Ave. S.E. | 403.261.1955 | silkroadspices.ca
Smoking Saucer Kit
Can't stop thinking about that tableside-smoked black walnut old fashioned at One18 Empire? Why not try to replicate this cocktail at home with a smoking saucer kit by Calgary-based Spirits with Smoke. Made from Canadian maple wood and designed by experienced bartenders, the saucer works by creating a unique "lake effect" of smoke which works to infuse your cocktail with aroma. Simply place the saucer on top of your pre-mixed drink and pack the bowl with one of three signature alcohol-infused wood chips: cognac cherry, rum and maple, or bourbon oak. Light the wood chips with a barbecue lighter or a crème brulee torch, keep it burning for 30 seconds and watch as the smoke slowly pillows downward. Each kit comes with a saucer, three locally-sourced signature alcohol-infused wood chips, dehydrated oranges, recipe cards and coasters.
Spirits with Smoke | 403.607.4631 | spiritswithsmoke.ca
Santa-rex Tiki Mug from Proof
By now you've probably heard about Proof Cocktail Bar's annual Christmas event, Miracle on First Street. And if you haven't, time to dig out that old Santa hat, head on down and find out what all the fuss is about.
The Miracle on First Street pop-up at Proof is part of the International Miracle Pop-up family that operates in over 100 bars all around the world each year. Scrooges beware! There's no shortage of Christmas spirit here. They deck the halls, revamp the cocktail list and blast the Christmas carols, all while dressed in their best (worst) Christmas sweaters. If you're looking to keep the party going at home, why not purchase one of their Santa-themed t-rex tiki mugs? "These mugs were a hot ticket item last year and they sell fast," says Erin Miller, general manager at Proof. The Miracle on First Street begins Nov. 18 and runs through to Dec. 24. The mugs are available online at their website beginning Nov. 18 with a few held for walk-in purchases each day.
Proof Cocktail Bar | 1302 1st St. S.W. | 403.246.2414 | proofyyc.com
The Botanical Gin Kit
Winston Churchill had a thing for gin. History tells us, Churchill famously despised sugary drinks and preferred his booze straight up. His recipe for a classic gin martini goes like this: Stir gin with ice while glancing at an unopened bottle of vermouth. If you know of someone who loves gin as much as the British Bulldog himself, why not gift them with a Kitchen Alchemist's Botanical Gin-Making Kit, developed by the Silk Road Spice Merchant and the Kent of Inglewood. From juniper berries and coriander seeds to pink peppercorns and angelica root, this kit includes everything you need to transform everyday vodka into sophisticated gin (vodka not included). Packaged neatly in a one-litre jar, this gift makes the perfect stocking stuffer.
Kent of Inglewood | 1316 9th Ave. S.E. | 403.457.1595 | kentofinglewood.com
Porter's Tonic Syrups & Simply Cocktails Syrups
Speaking of stockings, why not add a bottle or two of Porter's Tonic or Simply Cocktails syrups? These two Calgary-based companies are on a mission to improve homemade cocktails with their unique, flavour-boosting tonics and syrups.
Porter's Tonic: Nicole Fewell, owner and creator of Porter's Tonic was first introduced to tonic syrup when she was gifted a bottle. When she tried to buy more, she found none. So, she began making her own and eventually turned a side hustle into a full-fledged business. Tonic syrup is a special blend of botanicals that give tonic water it's unique flavour profile. Simply add soda to Porter's syrups and you've made tonic. Porter's tonic syrups, which use organic agave, instead of sugar come in four flavours: original, hibiscus, grapefruit and cardamom orange. Each eight-ounce bottle holds 16 servings.
Simply Cocktails: The creators of Simply Cocktails syrups made it their mission to bring unique, low-sugar cocktail syrups to the market. Made from a combination of real fruit juices and purees, Simply Cocktails come in a variety of flavours including pineapple, lime and habanero, grapefruit, honey and rosemary, dark cherry and peach and lime. Simply mix with your favourite spirit for a unique cocktail or add soda if you're seeking something non-alcoholic. Each bottle retails for $15.95 and makes six to eight cocktails.
Buy these products at at Vine Arts locations, Willow Park Wine and Spirits and the Silk Road Spice Merchant.
Vine Arts | 1310 1st St. S.W. | 403.290.0700 | vinearts.ca
Willow Park Wine & Spirits | 10801 Bonaventure Dr. S.E. | 403-296-1640 | willowpark.net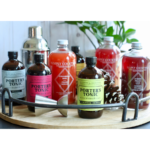 photos by Tanya Schaap