A delectable collection of Calgary's best international meat dishes
COVID-19 may have made international travel impossible, but thankfully, Calgary brings the world to devout meat eaters as the home of countless international
restaurants, markets and take-out joints. The adventurous carnivore will have no difficulty finding some of the world's most iconic meat dishes right here in Calgary.
Sun's Char Siu
Sun's BBQ Restaurant is where you'll find Calgary's best example of Cantonese-style barbeque pork, better known as char siu. Char siu is made by marinating fatty cuts of pork in a mixture of soy sauce, hoisin sauce, honey, and red fermented bean curd, which lends it its signature red tint. The pork is then hung on metal hooks and slowly roasted in an oven and basted with honey.  A mix of textures and flavors, char siu's sweet, crisp exterior contrasts perfectly with its tender, salty interior. At Sun's BBQ Restaurant, char siu is made fresh every day and often sells out by 3 p.m.
Sun's BBQ Restaurant, tasteofasiagroup.ca
Anatolia's Kebabs
Both Anatolia locations serve fresh, utterly delicious Turkish cuisine. Their perfectly marinated chicken and lamb kebabs are grilled to order, and both are juicy and tender, with just the right amount of char. Accompanied by a generous serving of rice, salad, tzatziki and hummus, Anatolia's kebabs make for a hearty and satisfying meal for any carnivore.
Anatolia Turkish Restaurant/Anatolia Turkish Cuisine | anatoliaturkishfood.ca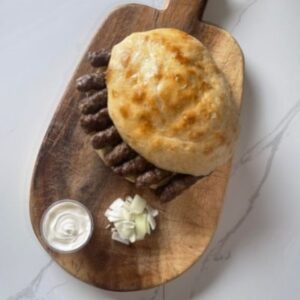 European's Chevaps
Follow your nose down Calgary's busy 17th Avenue to European Bakery & Deli, a family-owned bakery specializing in Balkan cuisine. Chevaps is a traditional dish of small, seasoned ground beef sausages served with onions and sour cream. European Bakery's version combines the juicy sausages with a pitalka, a traditional, soft flatbread. This hot sandwich is an absolute delight. If you're still hungry, European Bakery & Deli also offers meat burek, an enormous circle of layered phyllo dough filled to the brim with flavorful ground beef. It's also sold by the slice, and each generous serving is more than enough for one meal.
European Bakery & Deli | eurobakerydeli.com
Mina's Churrasco Rodizio
Minas Brazilian Steakhouse has been bringing traditional Brazilian-style barbecued meats to Calgarians for years. Pre-COVID, meats were served rodizio style, or all-you-can-eat, with servers slicing tender, seasoned cuts of beef, pork, and chicken tableside. Adapting to the new COVID-era, Minas now serves their signature Brazilian barbeque, or churrasco meats in take-out platters and boxes, where meat-lovers can choose their favourite cuts.
Mina's Steakhouse | minassteakhouse.com
Jonas' Chicken Paprikash
Jonas' Restaurant has been serving up authentic Hungarian dishes for the last 21 years and never disappoints. Chicken   is a popular and traditional dish in Hungary, and it's easy to see why. Each bite of chicken is drenched in a delicious paprika-infused sauce. Dollops of sour cream provide some tang, and homemade pasta called spätzle rounds out the dish. The ravenous carnivore is sure to leave feeling satisfied with this stick-to-your-ribs comfort food.
Jonas's Restaurant | jonasrestaurant.com
Yemeni Village's Beef Kabsah
Situated at the tip of the Arabian Peninsula, Yemen boasts a complex and rich cuisine full of spices. Yemeni Village brings traditional dishes to Calgarians ready for a meaty, spicy feast. Kabsah is a meat and rice dish commonly served throughout the Arabian Peninsula. Yemeni Village's uses high-quality AAA lean beef, which is pressure cooked for a fall-off-the-bone tenderness. Notes of cloves, cumin, and cardamom are present, and the meat is accompanied by an array of sauces, among them, zhug. Zhug is a refreshing blend of crushed green chili peppers, coriander, garlic, pepper and olive oil which provides
a powerfully spicy kick to the dish.
Yemeni Village | yemenivillage.ca
Eastern Fortune's Peking Duck
Eastern Fortune Restaurant is a dinner-only hidden gem serving up excellent Peking duck. Prepared in China since at least the 14th Century, Peking duck involves a multi-step process aimed at achieving delicately crisp, thin duck skin and tender, intensely flavored meat. Marinated in soy sauce and malt sugar before being roasted, Peking duck is traditionally served with thin Chinese pancakes, hoisin sauce, scallions and other accompaniments. Everything is wrapped together for the perfect bite. Just remember, because of the popularity and preparation time, Eastern Fortune's Peking duck needs to be reserved by phone a day ahead of time.
Eastern Fortune Restaurant | easternfortune.ca
On Fried Chicken…..
Unsurprisingly, fried chicken is a universal language of its own, and countless cuisines have their own spin on this guilty pleasure. In Calgary, there's everything from moist Southern fried chicken (Cluck N Cleaver, 1511 14th St. S.W.) to Korean fried chicken, with an airy, crisp bite and a wide variety of sauces (bb.q Chicken Lemon, #201, 1104 6th Ave. S.W.)  Bb.q Chicken Lemon's flagship dish features fried chicken coated with powdered cheese and lemon sauce — this unlikely pairing delivers a powerful umami punch, and is undeniably addictive. Jollibee (multiple locations, Calgary) is a fast-food chain from the Philippines with a well-deserved cult following. Jollibee's Filipino-style fried chicken delivers a spicy crunch with tender, juicy chicken — don't worry, there's a non-spicy version too. Nearly hidden in a far northwest strip mall is Tamarind (#1110 Panatella Blvd NW #610), an Indian restaurant serving up a popular Indian fried chicken dish called Chicken 65. Chicken 65 was originally created at the Hotel Buhari in Chennai, but many variations of the dish now exist. Tamarind's version is deep fried and covered with a fiery red, chili sauce. Don't confuse this Tamarind with the excellent vegan Vietnamese restaurant downtown!