If you have ever tasted a summer Caprese salad or a Margherita pizza, you know the heady aroma and flavour of fresh-torn basil. Have you noticed the grassy taste of parsley in a tabbouleh, or how a potato salad or a devilled egg is livened with sprigs of fresh dill? Summer nights on the deck can be easily amped up by roasting new potatoes with olive oil and chopped rosemary, then grilling veg or chicken skewered with the remaining stem. Think of a chilled mojito or iced tea without that stem of mint muddled into it. Everything is better fresh, and nothing is better than fresh herbs.
During a recent conversation with an x-ray technician, I commented on his sunburned arms. He had spent probably the only warm, sunny weekend in April building his first raised bed. And was so proud of it, showing me pics on his phone. I asked what he wanted to grow in his first garden. His reply: "Onions", and immediately after, "Oh, and fresh herbs, of course."
Everyone wants to grow fresh herbs. A pot or two in a sunny kitchen window or outside the back door inspires us to find ways to use those fragrant little plants. I have my preferences, and you will find yours as well. If you don't know what to grow, visit a garden centre, rub the leaves of the herbs, and smell the plants. Think about what is familiar and appetizing, it will help you know what you need in your kitchen. I have listed my favourites below.
But first, how to grow these magical little plants? Don't worry, they are easy. Should you sow seeds or buy starter plants? You can do a mix of both. Certain herbs like rosemary, lavender, oregano or thyme do better as plants in Alberta's unpredictable weather. I am on my usual garden centre wait-list for my little pot of lemon thyme, which I love but cannot find seeds for. I usually try to get a larger pot of rosemary because I use so much.
Growing from seed is easy, but you need patience. Most herbs are slow to germinate. Once they start though, they can be very prolific, and you will be searching for ways to use them. Grab a pot, fill it with good-quality potting soil, and sprinkle the seeds over the top. Many herb seeds, such as oregano or celery seasoning, are so tiny you can barely see them. The first time I tried growing celery, I planted three times before I figured out that covering them with dirt did not work. Barely cover larger seeds with soil and don't cover tiny ones. Keep a fine mist spray bottle nearby and keep the seeds moist until they germinate.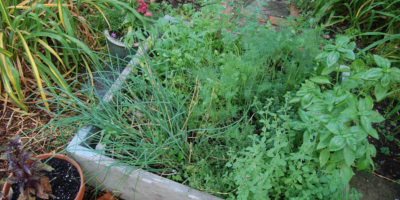 Start your plants in a large enough pot to keep them in, or transplant a few together to make an attractive, easy-to-reach container on your deck. I plant a few basil seeds or a tiny plant with each tomato I grow.  They do well together, and you can never have too much basil! I also have other basil plants all around the deck, it is a great pest-deterrent, as is mint. Basil helps keep mosquitoes away, as do some of the lemony herbs like lemongrass (which I am trying this year), lemon balm and verbena. Plant no more than one mint plant, as it is prolific and will take over anything in reach, so be sure to plant alone in a pot. Pinch back about one-third of herb stems once they start to grow to keep the plants bushy and full. Dill, cilantro and parsley are umbellifers – when they bloom the tiny flowers form an umbrella-like shape that attracts predatory wasps and other helpful insects that control aphids and other damaging pests.
So now that you have thriving herb plants, what to do with them all? Here is a list of suggestions, plus some additional tips to preserve the flavours longer:
Parsley – the perennial go-to. Mild in flavour, great as a finish on top of almost everything, raw or cooked. I love it especially as leaves in a salad.
Basil – another popular one to have in your herb garden, use as a base for pesto, in tomato salads and pasta dishes, or on pizza – the possibilities abound.
Oregano – wonderful in a pasta salad or Greek dishes, as well as anywhere you'd use basil.
Dill – probably my most used herb of the summer. I mix it with lemon on fresh fish, add it to tuna, egg or new potatoes, and in vinaigrettes for my garden bounty of lettuces.
Thyme (particularly lemon thyme) – summer Niçoise salad is not the same without it! A tasty addition to herb marinades and soups.
Rosemary – focaccia bread is nowhere near as tasty using dried rosemary. I use fresh year-round with garlic when roasting potatoes.
Sage – ricotta gnocchi with chopped sage cooked in browned butter, yum. Cooking it mellows the flavour. Popular with poultry dishes or added to roasted squash or sweet potatoes as well.
Chives – adds a mild onion flavour to virtually anything. Especially wonderful added to yogurt or sour cream dips, to baked potatoes on the grill, or sprinkled on cooked veg.
Mint – I prefer peppermint over spearmint as a more universal herb. Keep a pot on your patio table to add a few leaves to icy summer drinks or even a glass of water, stir into a fruit salad, or freeze into ice cubes to add to a summer punch bowl.
Amsterdam Celery Seasoning – one of my faves. Big leaves look like flat-leaf parsley but taste just like celery. Sprinkle on salads, add to stocks, soups and stews. I love to dry lots for use in my crockpot and soups all winter long.
Using Your Bounty
Uses for fresh herbs abound.
Try chopping them and mixing into soft butter. Chill, roll into a log, chill again, slice, wrap and freeze. Serve slices over veggies or mix with garlic for an herby garlic bread, etc.
Freeze whole leaves in ice cubes to add zest to water or cocktails.
Boil together 1/2 cup of sugar or maple syrup with 1 cup water, then infuse with fresh herbs for 15 minutes, strain and refrigerate syrup. Use simple syrup in iced tea, sparkling flavoured waters or your favourite mixed drink.
Add dill or other herbs to pickles, sprinkle chopped herbs over veggies, add to a vinaigrette, or make a mixed herb salsa, such as chimichurri.
My favourite way to preserve when the bounty gets too big is to haul out my dehydrator and fill it with leaves. Or tie bunches together and hang to dry. Bottle the whole dried leaves and crush only when you are using them to retain more flavour. Or simply freeze after harvesting to add to soup and stews.
For reference, 1 tablespoon of chopped fresh equals about 1 teaspoon of dried. Once you start using fresh herbs you will want to try new and different ones in your garden and cooking savoury summer dishes. Why not start this year?