Debbie Lambert, Publisher
Born into an entrepreneurial family and managing advertising sales for the past 40 years, Debbie is doing what comes naturally; leading a sales-based business.  A self-proclaimed coffee addict, Debbie is thrilled to be at the helm of Savour Calgary, working with a truly wonderful team of people. Being able to blend her experience in business, sales and the culinary industry is her true passion.  Born and raised in Toronto, Calgary has been home for the past 18 years where she lives with her husband Rob.  When she's not working on the magazine, she can sometimes be spotted helping on the Meraki-On-The-Go food truck, owned by her chef daughter, Amanda.   Relaxation time is spent travelling and spending time with their kids and grandchildren.
Camie Leard, Editor
Camie has a passion for music, food and the people who make them. A lifelong Calgarian, Camie brings 20+ years of experience telling stories about this city as an editor, communications professional and blogger. In her spare time, Camie is a painter and musician who is always looking for the next great meal.
Wanda Baker, Associate Editor
Wanda Baker is the author of a food and lifestyle blog bakersbeans.ca. She credits watching cooking shows Saturday mornings on PBS as a young child as the early beginnings of her interest in cooking, recipe testing, writing and eating all the things. She's been involved in starting and organizing events in Calgary including YYC Pizza Week and The Culinary Race, is a freelance digital content manager and local community advocate. She's been featured on The Weather Network, Global News Radio 770, Global Calgary and Shaw TV. Her recipes have been featured on Food Network Canada, she's been published in Western Canadian Magazines and upon the insistence of local culinary friends may one day write her own cookbook. In 2018, Meals on Wheels created The Baker Award in Wanda's name to recognize the restaurant demonstrating the most community spirit annually during YYC Pizza Week.
Ellen Kelly, Advertising Sales Consultant
As a second-generation Calgarian (and third generation Albertan), Ellen's heart and soul reside in the grasslands. Along with her passion for, and devotion to, all things food and beverage, she brings a wealth of experience and expertise to Savour Calgary in order to celebrate and promote the industry, the city and the province that she loves. During the course of Ellen's career, she has worn, variously and sometimes concurrently, the hats of bookseller and publisher's rep, chef, restaurant consultant, caterer, cooking instructor and food writer. She now fills her days with culinary magazine advertising sales, to which she brings over 25 years of experience, and continues to write whenever the opportunity presents.
Martin Robillard, Advertising Sales Consultant
Known as a "Global Nomad" by friends and family, Martin has travelled the world extensively.  Moving to the Middle East at a young age, his appreciation for global experiences was born and in turn fueled his passion for world-wide travel.  His experiences developed into a love for all things culinary and propelled him into a career in Hospitality and Tourism. Working for three publications, including Island Life in Mallorca, Spain, Martin knows how to help businesses grow with print advertising.  His knowledge of the restaurant industry is vast, having owned his own beach bar resto, El Surf Cantina in Vinaros, Valencia.  Now back in Calgary with his wife and teenage son, Martin is starting a new chapter in the industry that has shaped his goals and passions and he's very excited to be working with the team at Savour Calgary.
Barbara Balfour, Contributor
Barbara Balfour is a television host and producer, award-winning public speaker, and international print journalist. Her work has taken her to over 40 countries and she is currently working on a film documentary about Georgia. Follow her work at www.barbarabalfour.com
Shelley Boettcher, Contributor
Shelley Boettcher is a former Calgary Herald staff food and wine writer, a syndicated national wine columnist for CBC Radio's morning weekend shows and the author of three books about wine. Her stories have appeared in magazines and newspapers around the world. Follow her on Twitter @shelley_wine and Instagram @shelleyboettcher.
Elizabeth Chorney-Booth, Contributor
With over 20 years of professional experience as a writer and editor, I have written hundreds of magazine and online articles for titles including The Globe and Mail, Swerve, the Calgary Herald, BOLD, Where, Avenue, Chart Magazine, WestJet Magazine, Culinaire, Today's Parent, Leap, Spur and Prelude Live. I also am the weekly restaurant columnist for the Calgary Herald and a bi-weekly food columnist on CBC Radio. In addition to journalism, I also work with businesses to provide marketing copy for print and online platforms and offer professional editing services to add polish to pre-written text.
Bernice Hill, Contributor
Bernice Hill is the food writer, recipe developer, taster, photographer, and social media mind behind Dish 'n' the Kitchen. She loves to create new and interesting recipes using seasonal ingredients and fun techniques. When she's not cooking/baking/preserving, she's out on the town enjoying great food others have prepared.
Linda Kupecek, Contributor
Linda Kupecek is a Calgary author and screenwriter who does better at her computer than at her stove. She was a guest at Wordfest 2007 with her book, The Rebel Cook: Entertaining Advice for the Clueless.
Erin Lawrence, Contributor
Erin is a Calgary communications professional, video producer, journalist, and freelance writer who loves food, technology and travel. Find her online at  ErinLYYC.com or on Twitter @TVChick1313
Alison Martin, Illustrator
Alison Martin is an illustrator, letterer, educator and creative adventurer based in Calgary. When she isn't teaching art to young creatives or running local workshops, she is busy refining her skills in her studio. You can also find her trying new food and drink recipes in her kitchen or searching for a flight to visit new inspiring places. Follow her adventures on Instagram @amartincreative
BJ Oudman, Contributor
Born and raised in Alberta, BJ has contributed to numerous North American publications with a focus on travel, food, wine and wellness for over ten years. A professional physical therapist since 2001, story telling sprouted from formal wine education in 2006 coupled with a restless spirit and love for travel. The driving force behind creating content is telling the stories of passionate people and places she discovers along the way.
Karen Ralph, Contributor
Karen Ralph, co-author of Calgary Eats and Calgary Cooks, founded grassland gluten free baking and leads the wine program for The Cookbook Co. Cooks annual culinary escapes to the south of France. She earned a BFA from ACAD and was a long time contributor to City Palate Magazine.
Gwendolyn Richards, Contributor
Gwendolyn
 Richards is a Calgary-based writer and the author of Pucker: A Cookbook for Citrus Lovers. Along with writing and editing for corporate clients, she regularly contributes to a number of publications, weaving stories about travel, culinary trends and chefs and restaurants of all stripes, from fine dining to hidden gems. A journalist with more than 20 years of experience, she shares her skills and knowledge with first-year journalism students as an instructor at Mount Royal University. She is known for her love of bourbon, burgers — one of life's greatest foods — shiny patent shoes and her signature red lipstick.
Tanya Schaap, Contributor
Despite spending most of her career buried in books, Tanya Schaap, a professor-turned-food writer, has always been most at home in front of the stove or behind the bar. As a Calgary-based writer and editor, Tanya has contributed to a number of publications over the last 20 years. In her spare time, she publishes a food and cocktail blog called Cakes & Ale where she explores the often-strange, always-amusing stories and legends behind popular food and drinks. Follow her on Twitter @TanyaSchaap and Instagram at @cakes_ale_blog.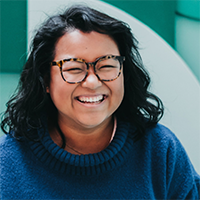 Chanry Thach, Contributor
Known for her food escapades, this local gourmand is often found gallivanting through the city eating pigs head, brunching, and experimenting in the kitchen. During the day, Thach is a social media wizard and the voice behind some of your favorite food brands. After hours, she is full speed ahead exploring the city like a tourist, building up her plant collection and obsessing over the latest cat videos. Follow her adventures, and her ramblings on instagram @theHungryGnome_
Eden Thompson, Illustrator
Eden Thompson has been a full time artist in Calgary for over 20 years. Appearing on book covers and magazines, his artworks are collected internationally. View original and commissioned paper-cut portraits at www.edenthompson.com
Catherine Van Brunschot, Contributor
Catherine Van Brunschot is a Calgary-based food and travel writer. Find her online at catherinevanbrunschot.com.
Julie Van Rosendaal, Contributor
Julie Van Rosendaal is the Calgary-based author or co-author of ten best-selling cookbooks. She has been the food columnist on the Calgary Eyeopener on CBC Radio One for over 12 years, is the contributing food editor for the Globe and Mail, and for the past twenty years has been a freelance food writer and columnist for other publications across Canada. Julie hosts a Canadian food podcast called Crispy Bits, and co-hosted (with chef Ned Bell) three seasons of a TV cooking show called It's Just Food. She teaches, speaks and cooks at culinary schools and events across the country, and has a very engaged audience on her social media channels and blog, Dinner with Julie.
MariellaVillalobos, Illustrator
Born in Calgary right before her family's return to Chile out of exile in the late 80's, Mariella's life has been one exemplified by the mix of Chilean/Canadian cultures in her upbringing and a wide variety of influences. She received her Bachelor of Design degree in Illustration & Character Design in 2010, working as a successful freelance illustrator for everything from editorial and magazines to album covers and independent video games, before continuing on to complete her Masters of Design in Visual Communication Design at the Glasgow School of Art in 2019.
She currently lives and works out of Calgary, Alberta and Glasgow, UK. (that or a super-secret abandoned Soviet submarine base in the arctic ocean that just so happens to have an excellent internet connection). Her interests include history (especially the absurd bits), books, the culinary arts, music, pop/trash culture, opera, theatre, fashion of the 1920's, and writing about herself in the third person.
Grace Wang, Contributor
A native of Surrey, BC, Grace loves street food, all types of bread, and has a special place in her heart for mango desserts. She spends her time eating, writing, and looking after her pet budgies.