By Tanya Schaap
Certain flavour combinations will be together for life. I'm talking peanut butter and jelly, chicken and waffles, salt and vinegar, bacon and eggs, wine and cheese. These couples are in it for the long haul.
Simply put, some things taste better together. The humble baked potato reaches new heights when topped with a dollop of sour cream. Pasta transforms into a glorious rich bowl of cacio e pepe with the addition of a little Parmesan and pepper. Okay, maybe a lot of Parmesan and pepper. Even a dish as complex as ramen hits another level with a jammy soft-boiled egg.
In his most recent cookbook, Flavor, best-selling cookbook author Yotam Ottolenghi explains how flavour can be "dialed up" by the pairings within a dish. According to Ottolenghi, the four most important pairing components are sweetness, fat, acidity and chile heat. You won't always find all four, he says, but in every great dish you'll find at least two: "Satisfaction is about the combination, the layering, the contrasting of tastes."
A quintessential pairing like wine and cheese works so beautifully because the acidity in the wine cuts through the fattiness of the cheese and vice versa. Peanut butter and jelly work because the sweetness and acidity from the jam balances the rich fatty saltiness of the peanut butter. The result? A symbiosis of flavour. The whole is greater than the sum of its parts.
This, of course, is nothing new. Yet once you start paying attention to the components of perfect pairings, you become a better cook. Add an acidic component like oranges to an overly sweet chocolate dessert. Finish roasted asparagus with some olive oil, butter or even a poached egg to add some fatty unctuousness. Once you understand why certain ingredients go together, even the simplest ingredient becomes a canvas for new flavour combinations.
In the spirit of Valentine's Day, let's explore some exciting culinary couples sure to please your palate on February 14 and all year long.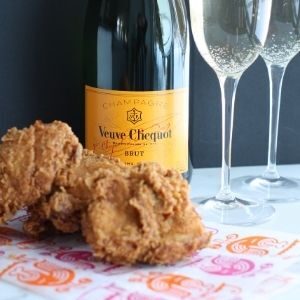 Champagne & Fried Chicken
You might have expected chicken and waffles here. And you wouldn't be wrong. Chicken and waffles make for an undeniably good combo. To fulfill that craving, track down YYC food truck Waffles and Chix or pop into one of the three Bro'Kin Yolk locations. But since it's Valentine's Day, we're pairing our fried chicken with champagne. Why does it work? The natural acidity from the champagne along with its notes of brioche pair perfectly with the crunchy, savory chicken. Here we paired a bottle of Veuve Clicquot with Calgary's Cluck N' Cleaver fried chicken. cluckncleaver.com
Whiskey & Cookies
For you Scotch lovers, this combination will be familiar. Nibbling on a Walker's shortbread cookie while sipping on a glass of Glenfiddich 12-year-old is about as Scottish as it comes. But whiskey and cookies also make an ideal pairing. Elizabeth Roach of the Bourbon Review along with renowned drinks specialist, Adam Geissler tested a number of combinations in 2016, pairing things like Girl Scout Thin Mints with Basil Hayden's and Peanut Butter Patties with Woodford Reserve. Next time you pour yourself a dram, check your pantry for a buttery sweet companion.
Meat & Cheese
A charcuterie and cheese board might be one of the best places to flex some pairing know-how. As Karen Kho of Calgary's Empire Provisions, explains, "Charcuterie and cheese boards are a cornucopia of flavours and textures. When you're building a board, the key is to create balance. Meat and cheese will obviously provide the salt and fat components, so you need to compliment these flavours with both sweetness and acidity." At Empire Provisions, a specialty grocer and café featuring house-made butchery specialties from Alberta-raised livestock, this is achieved by pairing things like a fine local honey or fruit compote alongside sharp or blue veined cheeses or pickled vegetables alongside salumi. "We love grainy mustard with our patés and rillettes," explains Kho. "And I personally love heat, so tangy and fiery Spanish piparra peppers are a must for me." empireprovisions.com
Blue cheese & honey
While not uncommon on cheese boards, the blue-cheese-and-honey duo is worth celebrating. This combination has been known to convert even the most ardent blue-cheese haters. The bold, stringent flavour of the blue cheese is mellowed by the sweet honey. Next time you put out a wedge of blue cheese, drizzle it with some Calgary-made, raw honey by Drizzle and serve alongside toasted baguette slices. Then let the naysayers decide. Drizzlehoney.com
Peanut Butter & Jelly
We don't need to say much more about this nostalgic pairing. But why not try it in new ways? Like a peanut-butter-and-jelly thumbprint cookie. Next time you bake some peanut butter cookies, pop them out of the oven a couple of minutes before they're done. With the back of a teaspoon, make a small indentation, fill it with jam and pop them back in the oven for the final two minutes.
We asked YYC food & drink pros to share their favourite flavour combinations
Chef Duncan Ly | Foreign Concept – I love the pairing of coconut curries with a rich Chardonnay. They both have a creamy and buttery texture that complement each other perfectly.
Christina Mah | Partner and Cocktail Curator Klein & Harris – I like pairing brown spirits with a maple glazed or burnt sugar roast. Our candied pork belly dish comes with an egg in a nest, maple butter, and pickled onions, which makes a perfect pairing with our spiced vanilla old fashioned! Sugars cooked at a high temperature can complement characteristics of charred oak barrels.
Darryl Corbett | Spirits Expert at Willow Park Wines and Spirits – We have a single malt in the store, the Glenmorangie Quinta Ruban 14-year-old that is finished in a ruby port barrel, lending an inviting red hue to the glass. It has elements of chocolate and cherry (think cherry blossom chocolate bar). To sip on it and nibble on a piece of dark chocolate… heaven.
Darren Clark & Graham Sherman | Calgary-based Pitmasters for the Notorious P.I.G. competition BBQ Team – From a barbecue point of view, one of the best and most classic pairings has to be pork and apple. There are so many ways to combine these flavours together in the barbecue world. From injecting a pork butt with apple juice before smoking, to spritzing pork ribs or pork shoulder with apple cider vinegar and apple juice while smoking, to using apple sauce as a base for a barbecue sauce – this pairing is quintessential for good BBQ.
Chef Jenny Kang | Orchard Restaurant – My favorite pairings are all ones that create perfect balance like a seafood ravioli accompanied with a rich but acidic beurre blanc paired with a crisp, medium bodied Riesling. The wine cuts into the beurre blanc, creating this wonderful balance that complements the flavours of the seafood."