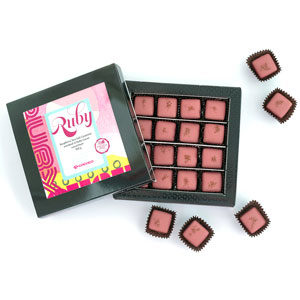 A New Pink Confectionary to Love
Ruby Couverture arrived in North America last year much to the delight of chocolate lovers everywhere.
Ruby is the first innovation in chocolate since the invention of white chocolate about 80 years ago. It is the fourth type of chocolate following dark, milk and white. It is a pure cocoa product made entirely from cocoa beans, offering a tart, fruity flavour profile and is created by the Swiss-Belgian company Barry-Callebaut  (no relation to Bernard Callebaut.) Currently in Canada, Ruby can not be called "chocolate" until the CFIA approves the product, however "Ruby", "Ruby Cacao" or "Ruby Couverture" are allowed.
Local chocolate company Cococo Chocolatiers has taken the required training to be able to use the pink chocolate. It is currently offering Ruby couverture in a block, bar, and Raspberry Sea Salt Caramels finished with Alaea Hawaiian sea salt. With an interesting flavour profile, Cococo predicts all kinds of future pairing possibilities and Ruby Cacao creations. We think this couverture is the perfect Valentine's Day treat.
Ruby Raspberry Sea Salt Caramels | Cococo Chocolatiers | $28.50
Whimsical, Flavourful, French Patisseries
Award-winning pastry chefs Marie and Yves Ghesquière opened their first store in France in 1988. Their sweet creations gained the attention of the culinary world awarding them many accolades in France and enabling them to supply the Grand Prix in Monaco for more than  10 years. The lure of the great Canadian outdoors lured them away from France and landed them in Calgary, where they owned and operated a café for 14 years before changing gears. Their new venture, She Bakes Bouquets, is located in the Calgary Farmers' Market. They offer handmade and decorated French patisseries both online  and in the market location. With many options to choose from, a few of our favourites are their French gourmet marshmallows, chocolate covered berries, and floral cream tart cakes. The cakes are wonderfully whimsical, flavourful and not too sweet. They combine two layers of almond shortbread, fill them with dollops of pastry cream mousseline and decorate with a mélange of meringues, fruits, macarons and buttercream flowers. Check online to see the different flavour and shape options available. Ensure you allow at least five days when placing an order. A beautiful treat for any celebration.
Heart Shape Cream Tart Cake She Bakes Bouquets | $65 – $95
Add A Little Smoke to Your Cocktails
Wow your guests at your next dinner party by smoking their cocktails right in front of them. The popularity of making cocktails at home continues to grow and we love finding local products to help make it easier without costing an arm and a leg. Hand-crafted cocktail smoking boards are available for the at-home cocktail enthusiast by Calgary's Spirits with Smoke. Inspired by his grandfather's woodworking expertise, Antonio Querin makes all the smoking boards. He and partner Meredith McNamara offer the boards in a cocktail smoking kit, or individually on their website. Boards can be used many times and each kit contains two hand-crafted aromatic bitters, one boutique 100 per cent organic maple syrup from Quebec, and three classic aromatic woods. Choose between cherry, hickory, maple, oak and walnut when you place your order online. They even offer cocktail-making classes. Smoking can influence the flavour, aroma and appearance of any cocktail, elevating a simple drink to something extraordinary.
Starter Smoked Cocktail Kit | Spirits with Smoke spiritswithsmoke.ca | $65
Coffee With A Cause
Amaranth is a locally owned and operated family-run natural food store with four locations in Alberta. It sources a wide variety of products to serve a range of diets and lifestyles. Many of their products  are sourced locally and chosen for the health of its customers and of the planet. While Amaranth has many products we adore, we were particularly moved by the story of Kingdom Coffee. Kingdom Coffee was inspired by Jim, a homeless and addicted father who had landed at the Calgary Dream Centre with nowhere else to go. There, he was able to kick his addiction and even become a pastor himself. When Jim died from a work-related accident in 2015, his son Jesse and wife Steph started roasting and selling coffee beans to raise money for other folks like Jim. For every bag of Kingdom Coffee sold, a $2 donation goes to the Calgary Dream Centre.
Nicaragua Medium Roast & Honduras Medium Roast | Kingdom Coffee Amaranth | $14.99
The World's Stinkiest, Healthiest Food
It's a new year and many of us are trying to make better food choices to help us get healthy. Naturally, we were intrigued to learn one of the world's superfoods, Japanese natto, is now being made organically in Calgary. What is natto? Simply put, its fermented soy beans.
Local Artisan craft Natto maker Megumi Ross, along with her husband Ely, are using methods learned from Megumi's family in Japan to craft their natto. Using bacteria shipped here from a lab in Japan, then mixed with Canadian organic soy beans and Rocky Mountain spring water, the mixture is fermented for three days before it's ready for consumption. Although not for the faint of heart due to its slimy and sticky nature, natto boasts a lineup of health benefits including having the highest source of vitamin K2 of any food source available. Megumi's natto is certified and approved by Alberta Health and she plans to continue making and selling more fermented products in the future. Try eating natto as is, or add fresh ginger, scallions, avocado, soy sauce or ponzu. Check the website for where to buy it in Calgary.
Natto – 50g container | Kiyoko Fermentation Company kiyokofermentation.com | $5