Fermenting at home brings zest and health benefits to the table
While Calgary entrepreneur Margot Loveseth rather detested sauerkraut when she tried it as a kid, a curiosity about the health benefits of fermented foods began a journey of discovery that not only changed her opinion of pickled cabbage, but also led her to a new business venture.
"I ordered every kind of jar, and read every single recipe I could find, and then I tried making sauerkraut," she says. "The biggest surprise of my life was that it's really delicious."
Fermentation is, from a scientific perspective, the act of using bacteria and other microorganisms to change sugars (carbohydrates) into acids or alcohol. One of the oldest ways to preserve food, fermentation is found in pretty much every culture and country. In South and North Korea, there's kimchi, cabbage fermented with spices and other vegetables. Japanese miso is made of fermented soybeans and brown rice or barley. Injera is a fermented bread from Ethiopia. Indonesia gave us tempeh, a plant-based protein made from fermented soybeans. And olives, made famous by so many Mediterranean cuisines? They're fermented, too.
"Whether you know it or not, you already love fermentation. Probably most of your favourite foods are fermented. Everything from beer and wine to chocolate, cheese, and bread involves fermentation," writes Emillie Parrish, a Victoria, B.C.-based blogger and author of Fermenting Made Simple: Delicious Recipes to Improve Your Gut Health (Touchwood Editions, 2022).
"It provides a dash of flavour to most meals, whether it comes from the balsamic vinegar in your salad dressing or the soy sauce in your stir-fry. Life would be bland without fermented foods."
But making your own doesn't have to be complicated, she notes. She has a tiny kitchen and makes small batches regularly. Her teenage son has made his own sourdough bread and sweet and spicy fermented pickles, and both of her children are fans of milk kefir, a yogurt-like drink, as well as water kefir, a naturally carbonated beverage that gets its flavour from fruit.
Many of Parrish's readers are gardeners, looking for interesting and healthy ways to preserve the bounty they've grown. "But I created the book for people who want to be healthy and who see that fermented foods are important, and that they can make them themselves and that they're tasty," she says. "You feel like you're eating in a fancy restaurant when you add your own fermented sauce to a dish, but really, it's just salt, water and food: vegetables, or whatever you're using. Nature did the rest."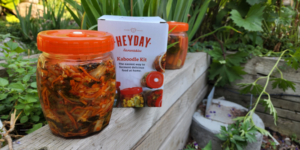 As for Loveseth, she is such a convert, she has turned her passion into a business Heyday Fermentables. The company offers do-it-yourself fermented food kits for people interested in trying their hand at making their own kombucha, kimchi or sauerkraut, you name it, but who lack the knowledge and confidence to dive into the art of fermenting without help.
"By fermenting foods, we are rediscovering things that our ancestors ate, and that excites me," she says. "We're improving our health, adding an incredible flavour profile to our meals and reconnecting with our past." These days, Loveseth says she eats something fermented almost every day. "I always have sauerkraut and kimchi in the fridge, and kombucha and water kefir, too," she says. "And I really encourage others to try making it themselves, too. I would love to see fermented foods become a part of our regular, everyday diet, everywhere."
Want to find out more about Fermented Foods? Check out these resources:
Calgary chef Kyle Hanna is behind Culture Shocked, a small local food preservation business offering everything from fermented ketchup to a range of sauerkrauts. Shop online at cultureshocked.ca or call 403.467.2278.
Leanna Parent-Hertz, Lyndon Hertz and Jared Salekin are behind a trio of local businesses all geared around good food and fermentation. Owned by Parent-Hertz and Hertz, Krooked Kraut makes and sells sauerkraut and other creations at Krooked Lucy's in Fresh and Local Market and Kitchens at Avenida Village. Find them at @krookedkrautyyc and @krookedlucys on Instagram, and you can also shop online at Salekin's Zinyk Farms (zinykfarms.com).
Cookbook Co. Cooks has a fermenting workshop for beginners with instructor Vanessa Elander, Oct. 2. Go to cookbookcooks.com or call 403.265.6066.
The Light Cellar offers fermentation classes and ready-made foods, and hosts an annual fermentation festival, too. Go to lightcellar.ca or call 403.453.1343.
Heyday Fermentables (heydayfermentables.com) offers DIY fermenting kits for kombucha, hot sauce, sauerkraut, kimchee and more.
Karma Cultures is another Calgary-based business selling kombucha kits, gear and more. Order online (karmacultures.com) or find stuff at Blush Lane Organic Market and Community Natural Foods.