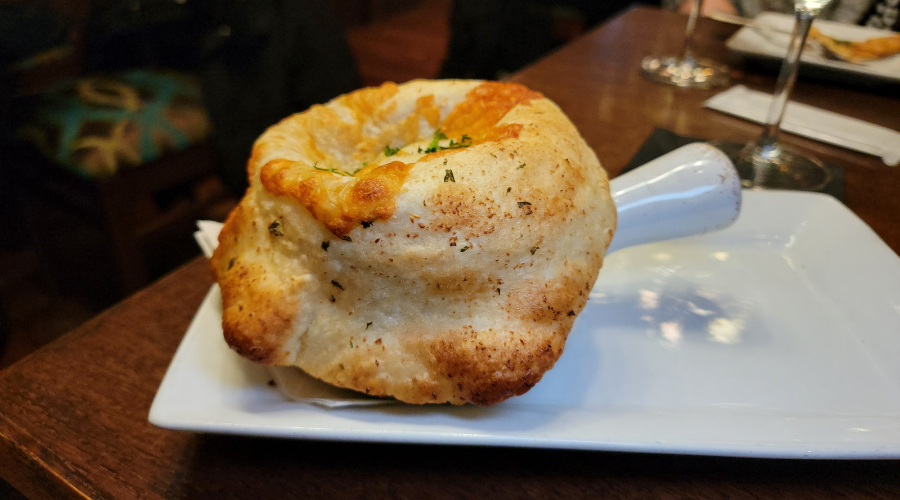 4th Spot Kitchen & Bar French Onion Soup
French onion soup is a classic French dish made with dry bread or croutons, beef broth, and caramelized onions. Sweet onions like Vidalia, Walla Walla are the traditional choices however red or yellow onions offer a spin on this popular dish. The flavourful soup is topped with crusty bread or croutons, mounds of cheese and put under the broiler to melt the cheese before serving. Here's some of the best French onion soup in Calgary.
4th Spot Kitchen & Bar
2620 4 St. N.W.
4th Spot Kitchen + Bar is known for its Karouzo family award winning pizza, however the slow cooked in-house French onion soup made onion broth topped with mozzarella, bread and a Parmesan garlic puff pastry takes onion soup to a new level. Can't make it to the North? Visit sister restaurant Spot On Kitchen & Bar in the south.
Tomahawk Kitchen + Bar
9823 MacLeod Trail S.
Tomahawk Kitchen + Bar French onion soup is made with a Bordelaise broth, low and slow cooked caramelized onions, topped with Gruyere cheese, baked, and finished with thinly sliced scallions. Recommended pairing is a glass of Pinot Noir.
Flower and Wolf
255 Barclay Parade S.W.
Located inside the Sheraton Suites Calgary Eau Claire Hotel, Flower & Wolf takes inspiration from the classic tavern. A fleck of modern flair through rock & roll anthems and retro hip hop create a lively and social place. The classic French onion soup here is made with caramelized onions, red wine infused beef stock, and toasted bread topped with Gruyere cheese.
Brewsters
Calgary: McKenzie Towne, Crowfoot, Foothills, Lake Bonavista
Started in 1989, Brewsters was small-batch brewing before it became popular. This second-generation run family business is one of Alberta's longest-standing local breweries with restaurants across Alberta. Enjoy French onion soup with an infused broth of Hammerhead red ale and apple, caramelized onions, topped with croutons and three cheeses (Grana Pandano, provolone and Swiss cheese).
The Park Kitchen & Bar
Aspen, Quarry Park
The Park's baked French onion soup is rich, memorable and topped with crostini, mozzarella and Swiss cheese. With two locations (Quarry Park and Aspen) its easy to drop in to warm up with a bowl of hot onion soup.
Side Street Pub & Grill
1167 Kensington Crescent N.W.
Dive into this classic dish featuring croutons and onions that are caramelized before being added to a homemade beef broth. Mounds of melted Swiss cheese finish the dish. Located just south of Calgary's own "flat iron" building in the heart of Kensington, Side Street Pub & Grill is easy to find.
Wellington's of Calgary
10325 Bonaventure Dr. S.E.
Established in 1979, Wellington's Fine Dining restaurant has been serving guests steak and seafood for decades. The menu features retro items including the ever popular French onion soup au gratin with a caramelized onion broth, croutons and bubbly mozzarella cheese.
Pie Junkie
Kensington, Spruce Cliff/Wildwood, Crowfoot, Mahagony
A simple and flavourful dish, Pie Junkie's French onion soup is made using traditional ingredients. Fresh-cut onions, butter, and a touch of brandy are combined creating an rich, comforting soup. It's available frozen and once reheated, needs to be topped with a fresh baguette slice and Swiss cheese.