Be Prepared
Illustrations by Alison Martin
If there's one thing we know about eaters it's that no matter what, we'll find a way to eat great food. We're the people who will whip up Saskatoon-berry compote with a stick and rock to complement the trout we caught with our bare hands for a post-apocalyptic creekside nosh.
Fortunately, our spearfishing and rock mashing skills are not yet required. Calgary's food suppliers and makers are just as passionate and ingenious when it comes to feeding the eaters. We may not be able to gather in large groups to enjoy the best our city has to offer (man, do we miss you guys!) but there's plenty available for quarantined connoisseurs to cook, to eat and to drink. Here are some ways Calgary eaters can survive social distancing with a fully-pleased palate.
Raid your Pantry
You know you have a bag of barley hanging out at the back of the second shelf of your cupboard. Local food blogger and Savour Calgary contributor Bernice Hill (Dishnthekitchen.com) has a great recipe for barley arancini with shittake and seaweed on her site – and we've included it here for you too. Bonus: it calls for a 1/3 cup of pinot grigio and someone will need to drink the rest. Hey, there's a pandemic going on out there, we won't judge you for drinking on a Tuesday.
Raid Your Bookshelf
Since we're doing a lot of raiding, let's not forget your bookshelf full of great cookbooks and other foodie fodder by Calgary authors. Karen Anderson and Matilde Sanchez-Turri's award-winning Food Artisans of Alberta will inspire you and help you plan your first road trip once we're back on the highways, windows down, tunes cranked. Gwendolyn Richards' Pucker: A Cookbook for Citrus Lovers is sure to cheer you up AND get y
ou your daily recommended intake of vitamin C. One cookbook you'll want to have on hand during these dark days is Calgary Eats by Karen Ralph and Gail Norton, which rounds up some favourite dishes by local chefs. Enjoy Chef Kayle Burns from Bread and Circus' Bigoli all' Amatriciana courtesy of Calgary Eats in the sidebar. While we'd rather leave the cheffing to the chefs, if we can't dine with them, let's dine with their help. All three of these books are available for virus-free home delivery on Amazon.
Raid the Internet
Speaking of local food bloggers, Calgary has a bounty of talented cooks, writers, photographers, recipe developers and Instagrammers. In fact, some of our homegrown online talent is world renowned in online food circles. Savour Calgary associate editor Wanda Baker offers the delightful bakersbeans.com, foodie power couple Tara and Ken Noland say they bring in hundreds of thousands of page views per month to their Noshing with the Nolands blog, Our own Julie Van Rosendaal mustn't go unmentioned with her very popular Dinner with Julie blog. If you're looking for some visual stimulation and inspiration, visit @FoodKarmaBlog, @yycFoodJunkie, @HungryCoupleYYC, @FoodMammaComand @Miss_Foodie on Instagram. Start there, and you'll go down a delicious rabbit hole that will leave you hungry for more.
Support The Troops
The pandemic has not been kind to hospitality workers, chefs and owners. This unprecedented situation calls for unprecedented measures to come together and support one another. Programs like Eat Later (eatlater.ca) help eaters purchase gift cards to create some much-needed cash flow for restaurants now, while setting aside a promise to yourself to enjoy a great meal down the line. Some restaurants are taking things a step further. Nights and Weekends is fundraising for its staff by giving 50 per cent of proceeds from all gift cards purchased online directly to its staff with the other 50 per cent of proceeds for you to use once it re-opens. You will also receive a 20 per cent bonus gift card as a thank-you.
Order In/Take Away
While we're on the topic of delivery, Calgary restaurants have really upped their takeout and delivery game in the past few weeks. We've seen delights on Skip the Dishes and Door Dash we've never seen before. We've compiled a great list of great food on our website at savourcalgary.ca/covid-19. We're constantly
updating it, so check back often. In the meantime, I highly recommend the perogies from Heritage Bakery and Modern Steak's new MBurger – save room, it's huge.
Join an Online Food Community
Facebook has lots of local food groups including Bite Club and Calgary Food – Food YYC – or, start your own. My friend Jim invited me to eat out of cans together on FaceTime the other day. I haven't taken him up on it yet. I think we can do better. Bite Club hosted its first online meeting in March with members cooking in their kitchens together over Facebook Live.
Fancy Dinner for One
If you're anything like me a couple of weeks into social distancing, you may not have done your hair, or shaved or changed your pants in a while. No judgment here. Why not turn your self-isolation into self care and throw yourself a dinner party. Cook something you love. Dress up, set the table, light a candle and bring out the good china. You deserve it.
Prepare a meal for someone else
While you're at it, save some for a friend or neighbour. Half the fun of cooking is having someone fawn over your genius. Just because they can't do it in person, doesn't mean you should be deprived of your due admiration. Consider putting together a care package with homemade goodies and dropping it off on a friend's porch.
Shop Local
Individual vendors at the Calgary Farmers' Market, Avenida Food Hall and others are offering home delivery with fresh produce, meat and prepared food available. Blush Lane Organic Market delivers through spud.ca and Cultivatr.ca was Calgary's original online farmer's market. Bessie Box offers pre-packaged boxes of fresh meat and seafood from local farmers and ranchers for delivery around Calgary. Watch savour.ca/covid-19 for an up-to-date list.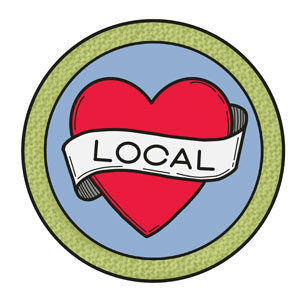 Life in self-isolation can be positively primitive. I'm not going to lie, I found myself tearing the flesh from a cold KFC drumstick letting the crumbs fall where they may in front of the TV last week. But it doesn't have to be that way. In all seriousness, we need community now more than ever. Find a way to break the monotony, break the loneliness, and break bread with someone. After all, we eaters know better than anyone how powerful food can be in bringing people together, even when we're at least two meters apart.