Cheers to the Three Wise Men
Eau Claire Distillery's redesigned Christmas Gin is a seasonal spirit that combines typical gin botanicals like juniper and coriander with the gifts of the three wise men: frankincense, myrrh and gold. This unique spirit leaves an almost balsamic, lemony aroma from frankincense, and a rich mouth-feel provided by myrrh resin to create a long, floral finish. Try it in an Aviation or a Festive French 75.
Sustainable Sushi
Calgary is getting Canada's first sustainable sushi hot spot. Aptly named Greenfish, this food-hall fresh face is backed by Chef Darren MacLean (Shokunin/Netflix's The Final Table) and Chef Duncan Ly (Foreign Concept/Mélo). The concept is accessible, sustainable sushi. Greenfish is the latest addition to Avenida Food Hall & Fresh Market. D426, 12445 Lake Fraser Dr. S.E.
Salud Y Provecho
Salt and Pepper Inglewood is getting a makeover! Following a great renovation in Bowness, Alex Solana and the team are giving the Ninth-Avenue location a facelift too. The heritage space, built in 1914, will close October 16 for about ten weeks while the core team stays on to serve guests at Salt and Pepper Bowness as well as at Lolitas Lounge.
As a side note: Leticia Solano one of the original "S&P Three" retired last year on her 80th birthday and sold her 30-year-old Macleod Trail Salt and Pepper. Her grandson Alejandro will continue as lead in Inglewood after the renovations.   1413 9th Ave. S.E.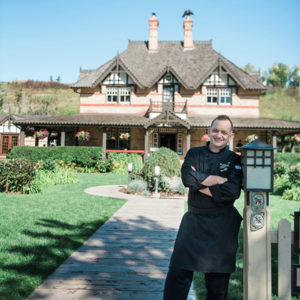 From La Chaumiere to The Ranche
Executive Chef Antonio de Angelis joins BVR with over 20 years' experience in perfecting the art of classical cuisine at a number of fine dining restaurants in Canada, Switzerland and Italy. The iconic La Chaumiere Restaurant in Calgary was his most recent and longest culinary experience where he worked as executive sous-chef for almost a decade. 15979 Bow Bottom Tr.S.E.
We all Scream for Guilt-free Ice Cream
Created in collaboration with Calgary chef Alex Hamilton (Cookbook Co.), Cookie Mama's new soft serve is made with organic, all-natural ingredients, with a sweet, creamy taste for kids and adults alike. With flavours like vanilla coconut and campfire chocolate, they're offering the classic soft serve swirl and sundaes featuring house-made toppings, as well as affogato created with Rosso-roasted coffee. We've decided affogato is the new pumpkin spice. Mmmmm.  1508 14th St. S.W,
The SAIT Supper Club
Second-year SAIT culinary studies students are cooking up an exciting pop-up restaurant experience. Students have paired with industry heavyweights to create a unique dining series. The experience includes a reception with small bites and a three-course, family-style meal with pairings. Cash bar available for additional beverages. Coming pop-ups include: Dec. 10 at Anju, Jan. 21 at Bread and Circus, Feb. 11 at Empire Provisions, March 10 at Gorilla Whale and April 21 at Model Citizen. Tickets are just $40 and are available at sait.ca/supperclub.
Chow down in Chinatown
'80Ate Fusion House is a new halal restaurant in Calgary's Chinatown serving Hakka Chinese and East Indian fare. Family owned and operated, '80Ate offers a unique Asian fusion just the way Mom made it. Find weekly features which will fuse North American favourites with Hakka Chinese flavours, like a Hakka-style hamburger. Enjoy a traditional East Indian brunch Saturday and Sunday. #101, 111 2nd Ave. S.E.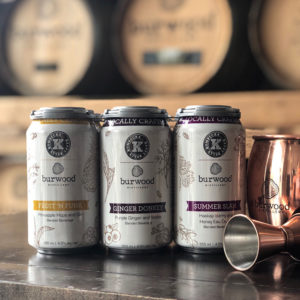 Good For Your Gut…And Your Dance Moves
Burwood Distillery and Happy Belly Kombucha have joined forces to create crafted cocktails that bring you the best of Burwood spirits with an effervescent twist of kombucha. Flavours include Fruit N' Funk featuring gin and pinapple hops, Ginger Donkey with vodka and purple ginger and Summer Slam with Burwood's signature honey eau de vie and haskap berry. These ready-to-drink boozy 'booch cocktails are available in cans in Calgary in a limited quantity.
Beyond the Beach
LATravel Group is offering a unique travel experience to Mexico through a curated, all-inclusive Street Eats food tour. Eat and drink like a local in Playa del Carmen, Mexico in the Riviera Maya. They've done all the research and legwork finding hidden local gems and hotspots so all you have to do is take in the sights and enjoy. Departs May 23, 2020 for seven days. Book at latravelgroup.com/street-eats.
Fried-Chicken Fans Get Jolly
Hundreds of fried-chicken mega fans lined up for the 7:00 a.m. grand opening of Filipino chicken chain Jollibee on September 20th at the Pacific Place Mall. Known as the "McDonalds of the Philippines" Jollibee's Alberta openings have set records for the company. We can't wait to check it out…when the line-ups die down a little.  999 36th St. N.E.
Naughty or Nice?
Twelve Nights of Wine is back, and for the first time ever, you have two options to choose from: Naughty or Nice. Select the version that applies to you (or the person you're gifting)! Countdown to the holidays with a different glass of wine each night. Bold reds for fireplace chats. Rich whites as refreshing as a mad dash through the snow. The boxes include 12 single glasses of wine individually packed in 100 ml glass bottles.  All wines are sourced from premium European wineries and are available exclusively in Calgary at Richmond Hill Wines, Market Wines (Calgary Farmer's Market), Vine Arts Wine & Spirits and Kensington Wine Market.
Garrison Gusto
Annabelle's Kitchen is loving homage to the owner Leslie Echino's Italian roots is a cozy, casual spot that serves nostalgic Italian comfort food with a side of fun and sass. With pizzas named after '80s pop hits (we'll take a Hungry Like the Wolf, please) you're getting a well-considered menu with a little something for everyone. Open seven days a week for lunch, dinner, or weekend brunch. 3574 Garrison Gate S.W.
CRAFT Beer Market
Part night club, part brew pub, part indoor campground, CRAFT Beer Market's newly renovated Beltline location is an experience. With a passion for local craft beer, CRAFT Beer Market features more than 100 kinds of beer on tap. New features include turf courts for bocce and other backyard-style games. It's also developed its cocktail program and added a cocktail camper within the restaurant. A cocktail camper! An extensive menu features all your pub favourites and then some, all reasonably priced. 345 10th Ave. S.W.
The Future of Food
CultivatR, Calgary's only farm-to-table home delivery service, is partnering with three local Calgary breweries to offer a unique intimate dinner and discussion series called The Future of Food. The goal of The Future of Food is to start a broader conversation on the future of our food system and for attendees to enjoy incredible local food and beverages.
Each dinner is curated by the breweries' chefs and showcase their unique specialties. The chefs will develop a menu using CultivatR products harvested and grown using techniques that increase the sustainability of land such as predictive agriculture and no-till farming. These agricultural techniques mitigate the negative effects on animals and the environment, values that align with CultivatR and crucial to their search for producers. It's not too late to catch the last of three dinners Nov. 28 at SunnyCider at 6:30 p.m. Tickets at cultivatr.ca/products/The-Future-of-Food.  SunnyCider is at Unit 1, 3300 14th Ave. N.E.
Baked Bouquets
Neither cakes nor flowers have ever been so stunning. We love these gorgeous cakes by the gifted Marie Ghesquiere at the new She Bakes Bouquets stall in the Calgary Farmer's Market. These will wow any recipient, or buy one for yourself. You deserve it…if you can bring yourself to eat something so beautiful.
Flat-out Fabulous
Rocky Mountain Flatbread has finally made it's way over the Rockies as the franchisor recently opened it's first Calgary location at #234 – 4916 130th Avenue SE. Specializing in fresh, organic ingredients, the new location features a full bar and a wood stone pizza oven for the crispiest of thin crusts. Owners Dominic & Suzanne Fielden are also recruiting franchisees to expand their Alberta offerings. Visit rockymountainflatbread.ca for more information.
SAIT Cooking Classes
Downtown Culinary Campus: Nov. 16 & 23, Introduction to Cooking; Nov. 21, Vietnamese; Nov. 23, Artisan Bread;  Nov. 28, Portuguese; Nov. 30, Viennoiserie; Dec. 7, Christmas Cookie Exchange; Dec. 13, Date Night; Dec. 14, Christmas Cookie Exchange.
Main Campus: Nov. 2, Sausage Making, and Viennoiserie; Nov. 12, Knife Skills; Nov. 16, Viennoiserie, and Baking Cakes; Nov. 22, Sushi; Nov. 26, Knife Skills: Butchery; Nov. 29, Date Night; Nov. 30, Butchery for Hunters, Chocolate, and Fondant Basics;  Dec. 3, Thailand; Dec. 6, Curry; Dec. 7, Viennoiserie, and Chocolate; Dec. 10, Desserts; Dec. 14, Butchery for Hunters, and Bean to Bar.
The Tastemarket by SAIT: Nov. 15, Date Night.
On the Bookshelf
Dirty Food
by Julie Van Rosendaal
Can. $19.95; Trade Paperback
Eating is a deeply personal thing, reflective of our tastes, feelings, environments, relationships, cultures and histories. Food is the centre of so many celebrations and social occasions; it's sentimental and emotional, a means of personal connection, and of expressing affection and support. So much of this is lost when it's stripped clean.
Dirty Food is a playful pushback against the current trend toward "clean eating"; applied to food, the notion of "clean", with its universally virtuous connotations, plays into all the usual guilt traps we have around what we eat. Like life, food is inherently messy—and often the messier it is, the better it tastes. Available at Cookbook Co. Cooks and other fine bookstores.
Mixtape Potluck
by Questlove
Abrams Image; October 15, 2019; Can. $37.99; Hardcover
In Mixtape Potluck, Questlove imagines the ultimate potluck dinner party. He invites more than 50 chefs, entertainers, artists, thought leaders, and musicians and asks them to bring along their favorite recipes. He also pairs each guest with a song that he feels best captures their unique creative energy.
The book starts with a charming foreword by fellow potluck aficionado Martha Stewart and finishes with Questlove's tips on how to make the perfect playlist. The result is not only an accessible, entertaining cookbook but also a collection of diverting musical commentaries.