By Ellen Kelly

Thanks to the relatively recent onslaught of hydroponic baby-this and micro-that all tidily provided in little plastic clamshells, we no longer have to do without greens for endless months. Don't get me wrong, it's a boon; any way we can get the green stuff in January is a good thing. Kudos to local business Deepwater Farms for their Deepwater Blend, it helped get me through this winter.
But come May, I crave the bitter to mix with the sweet, the hardy and crunchy to compliment the delicate and soft. I want challenging chicory and endive, frilly frisée, lemony sorrel, earthy young beet greens, kale, arugula and chard. So, dig out that languishing salad spinner, I'm betting you have one in the back of a cupboard somewhere. That siren's song of instant gratification is hard to resist, I know, but being able to prepare and assemble the perfect green salad will always stand you in good stead. Fill your sink with cold water and ice and immerse your greens for 20-30 minutes. This will revive the limp and help to get rid of any remaining grit. This works for pretty well for all salad greens. Now spin, spin, spin. Nothing is worse than wet greens in a salad. Aside from just being plain unpalatable, the dressing won't stick to wet leaves and who wants that? Chill the greens for another few minutes in the fridge piled loosely in a bag. Your goal is cold, dry, perky leaves.
Lots of things end up in a salad, but not all of them work. Remember that leaves are light and hunks of cucumber, tomato, carrot, etc. are heavy. Cut your garnishes accordingly. Thin slices or julienne of cucumber, fennel, red onion and carrot will float among the greens and not be forgotten at the bottom of the bowl. Tomato wedges, hard-cooked egg slices and such-like are best presented on the side or on top after the greens have been dressed and tossed, then drizzled with a little of the dressing. Try serving a lightly poached egg on top of a bacon lardon and frisée salad for something really exceptional. Can you say Lyonnaise?
Speaking of dressing and tossing, never over dress your salad; you can add more, but you can't take it out. And since it will begin to deflate the greens immediately, dress and toss right before serving. The desired result, unless you're aiming for a wilted salad, which is something else entirely, is a salad that is fluffy, crisp and bright.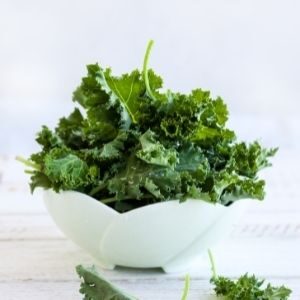 A word or two on vinaigrette: Growing up, many of us wouldn't have known a vinaigrette if it sat in our lap, but we were certainly familiar with Kraft salad dressing. I consider myself lucky that my mother preferred making her own, simple as it often was. Plain white vinegar, vegetable oil, mustard powder, sugar and garlic salt might sound vaguely unpleasant today, but it was a revelation then.
Vinaigrette should be simple. My stand-by dressing is hardly more complicated than my mother's, just with better ingredients. I make a large-ish batch, it keeps for 5-6 days in the fridge. Start with 3-4 large cloves of garlic mashed into a paste. In a small bowl, add 10 ml (2 tsp) chopped capers, 5 ml (1 tsp) salt, 10 ml (2 tsp) Dijon mustard, 10 ml (2 tsp) honey, 10 ml (2 tsp) fresh lemon juice and 125 ml (½ cup) apple cider vinegar. Gradually whisk in about 250 ml (1 cup) good olive oil until emulsified. Churning the whole business up with a handheld blender is okay, too. Just remember, all you need is something acidic like vinegar or lemon juice, something herbal and savoury like garlic, shallots and/or capers, and something sweet like honey or maple syrup. Finally, bring it all together with salt and pepper and a good oil. Voila! Vinaigrette.
Obviously, there's more to greens than salad. Fresh beet greens, Swiss chard, young turnip, kale, collard and dandelion leaves, are all a delight quickly cooked in little more than the water clinging to the leaves after washing. Pile what will seem like too much into a hot pan, adding more and turning constantly with tongs as the leaves cook down. Add a very little water if they start to stick. Season with plenty of salt and pepper, then serve hot with a bit of butter, a drizzle
of good olive oil or even a splash of good vinegar.
If you don't grow it, start looking for bundles of tart, lemony sorrel in farmers' markets. As with all greens, sorrel cooks down to what seems like almost nothing, so buy lots. If you have your own, with their distinctive gray-green spear shaped leaves, the newest shoots are lovely mixed in with other milder salad greens. I feel, though, that bright acidic sorrel really shines as a quintessential spring sauce. Deborah Madison's recipe is easy and sublime and since the whole thing is made in a blender, it couldn't be easier. Remove the stems along the entire length of the leaves of 500 ml (2 cups) packed sorrel leaves. In a blender, add sorrel to 1 roughly chopped garlic clove and 125 ml (½ cup) Balkan-style yogurt or sour cream. Pulse until smooth and well-blended. Stir in salt to taste and about 5-10 ml (1-2 tsp) finely chopped chives. A dollop of this sauce spread on the plate under a beautiful piece of grilled or poached salmon is a real treat.
Another delicious sorrel sauce comes with thanks to Alice Waters and Chez Panisse. In a small saucepan, bring 2 diced shallots and 125 ml (½ cup) heavy cream to a simmer for 5 minutes or less. Chiffonade a bunch (about 30 leaves) of trimmed and washed sorrel leaves and add to the cream mixture. Cook for another 5 minutes or so, until sorrel begins to break down, and season with salt, pepper and a squeeze of fresh lemon juice. Puree and serve hot over new potatoes or baby turnips.